THRiVE – 12 Steps to Better Health – Wednesday, March 27th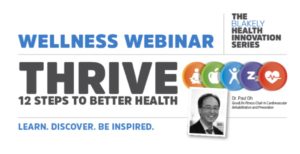 FunctionAbility is proud to sponsor the Blakely Health Innovation Series.
Join Dr. Paul Oh, Medical Director of the Cardiac Rehab Program, for this free webinar, part of The Blakely Health Innovation Series. THRiVE (or Targeted Health Risk Interventions and Education) is a 12-step health and wellness program developed by Toronto Rehab that offers steps, strategies, and online tools that can help you be healthier and live better. THRiVE can help you make small changes each day to better health.
We encourage you to share this webinar with your colleagues, family and friends.