We believe in excellence and everything we do centers around this core principle. As such, we practice from an evidence based care perspective utilizing research and innovation in treatment. FunctionAbility is involved in collaborations with: University level graduate programs and mentoring, research initiatives at teaching hospitals, expert panel contributors and conference speakers. We have a strong culture of innovation and research and have developed and implemented an Education Curriculum for all clinical staff on Best Practice Guidelines.
In fact, since 2007 we are among only a select few rehabilitat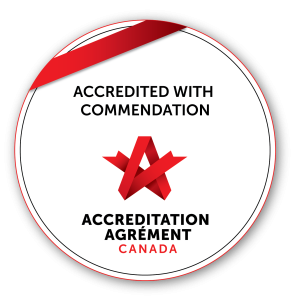 ion practices in the country that have achieved Accreditation. This is a significant designation and symbolizes that an external review was completed on FunctionAbility by senior healthcare clinicians (medical directors, hospital CEO's, outreach coordinators) from across Canada examining our practice standards. The accreditation process examines all areas of the practice including not only the clinical aspect, but spanning across human resources, information technology, infection control, environmental and management. Consequently, receipt of the accreditation signals to the public that FunctionAbility has been measured against a set of quality parameters, which have been developed and selected by Accreditation Canada as being best in class. Unlike the hospitals who must be Accredited, we undertook the Accreditation initiative voluntarily.
We are demanding of our team and our standards are very high. As a result our therapists rise to the occasion because they also must share our beliefs in excellence. Our team of therapists, on average, has 10 years of clinical experience.
In 2014 FunctionAbility was presented with the Rehabilitation Company of the Year award and the Case Manager of the Year Award by the Ontario Brain Injury Association (OBIA).
According to OBIA the awards indicate the following: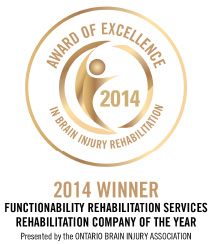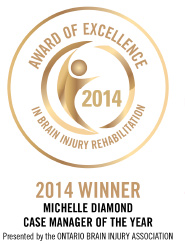 Rehabilitation Company of the Year – This award is meant to recognize the private rehabilitation company which consistently provides exceptional and dedicated service to brain injury survivors, including through volunteer work by its personnel.
Case Manager of the Year – This award is given to a case manager working in private practice who has consistently gone above and beyond the call of duty to help catastrophically impaired brain injury survivors and their families.
While we are deeply humbled, winning these two awards validates the unparalleled talent of our clinical team and our ability to provide unmatched service to our clients and their families. We believe that by winning these awards we have met our vision of "Being the rehabilitation provider of choice in Ontario".