FunctionAbility Wins 2019 Business Achievement Award!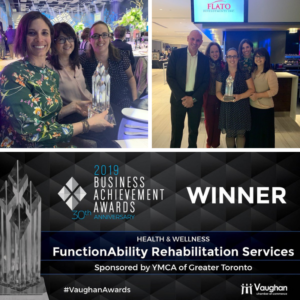 We are proud to announce that FunctionAbility has won the 2019 Vaughan Chamber of Commerce Business Achievement Award in the Health and Wellness Category.
This year marks the 30th Anniversary of the Business Achievement Awards where  the Vaughan Chamber brings the business community together to recognize and appreciate local businesses that have achieved excellence in their category.
We thank the Vaughan Chamber of Commerce for this award and congratulate all nominees and winners on their great achievement.