FunctionAbility and Entwistle Power Occupational Therapy merge to form Ontario's destination rehabilitation provider for severely injured clients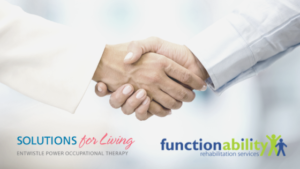 FunctionAbility Rehabilitation Services and Entwistle Power Occupational Therapy are pleased to announce that we have formally joined forces to become the largest provider of third party funded multidisciplinary rehabilitation services in Ontario specializing in the expert assessment and treatment of persons with severe injuries.
We are confident that the synergies created by this merger will enhance client care through the integration of respective best practices, as well as, enabling each company to expand their geographic capabilities and scope of services.
Julie Entwistle, co-founder of Entwistle Power Occupational Therapy comments: "The two companies have a long history of collaboration and have supported each other as like-minded firms providing exceptional rehabilitation to the seriously injured. So, we decided to make our mutual admiration and respect for each other official and tied the knot! What makes this truly amazing is that our groups share the same vision and values for top-quality, professional and proactive client care. We can't imagine a more cohesive partnership."
Nick Gurevich, Executive Director of FunctionAbility adds "I am so very pleased to be part of this newly formed team. Entwistle Power Occupational Therapy brings a very strong clinical background to the partnership that will help take our already strong practice to the next level. With the two companies working together we will have the capability to improve on what is already considered that highest quality of care and documentation in the industry."
We thank our community partners, referral sources and clients for continuing to choose our services. In order to keep things simple all contact information, communication process and branding will remain unchanged.
About FunctionAbility Rehabilitation Services:
Established in 2001 and headquartered in Vaughan, Ontario, FunctionAbility Rehabilitation Services (FunctionAbility) is an accredited, award-winning community-based rehabilitation service that provides community based rehabilitation services across the province of Ontario. FunctionAbility specializes in the provision of third party funded rehabilitation services to individuals who suffer from serious impairments due to trauma.
Our Services include:
• Occupational Therapy
• Case Management
• Speech Language-Pathology
• Rehabilitation Coaching
• Social Work
• Physiotherapy
• Yoga Therapy
About Entwistle Power Occupational Therapy:
Solutions for Living – Entwistle Power Occupational Therapy works proactively and compassionately with disabled and injured people to help them improve their functional independence in important life roles. At home, work, in the community or during leisure pursuits, our Mission is to provide people with disabilities solutions for living so they can have hope for a better future, are empowered towards independence, and succeed in pursuing functional goals.
To learn more about this announcement contact Jamie Sutherland: Jamie.sutherland@function-ability.com