Full-Time Occupational Therapists Wanted – Ontario and Vancouver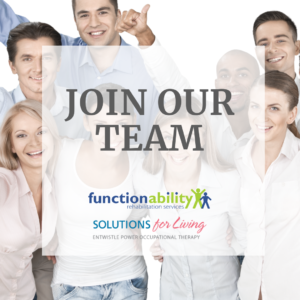 FunctionAbility and  Solutions for Living by Entwistle Power Occupational Therapy currently have several full-time openings for Occupational Therapists across the province of Ontario and in Vancouver B.C.
If you are an Occupational Therapist who has the clinical skills and experience to truly make a difference in the lives of your clients.
We want to hear from you!
At FunctionAbility and Solutions for Living, our promise is to provide the highest quality service possible to our clients, community partners and referral sources. As a result our culture and work environment is unlike any other and provides all the supports our team require to deliver on that promise.
That includes:
A flexible case load
Ongoing education and leadership opportunities
Skilled clinical supervision and monthly peer support meetings
Competitive compensation and benefits
A supportive, engaged team environment enabled by innovative education days among other supportive events
The successful candidates will possess the following traits:
Motivated self-starter with superior technical, verbal and written communication skills
Strong analytical ability
Computer skills (i.e. ability to work in MS Word and Outlook)
Great interpersonal skills and proven ability to work with different personality types
A minimum of 2-3 years clinical experience
Works well independently and as part of a group; and,
Since all therapy is provided in the community setting, access to an automobile is required.
When part of our team, the successful candidate will undertake the following:
In depth occupational therapy treatment in the community
The opportunity to enable occupational performance with a variety of clients across the lifespan selecting from your area of interest – pediatrics, young adults, adults to geriatrics, physical, cognitive or emotional issues.
A caseload that is tailored to your clinical interests, strengths and expertise.
Initial Home/Safety/Functional Assessments.
Facilitate discharge planning for clients from acute care/rehabilitation settings.
Assessment and treatment of individuals suffering from various disabilities, stemming from neurological, mental health and orthopedic disorders/injuries.
Assist clients in establishing and meeting meaningful and client centred goals within the home and community setting.
Liaise with various community partners and rehabilitation professionals to facilitate client goals and independence (we collaborate regularly with physiotherapy, psychology and SLP, to name a few).
Qualifications and Skills
A university degree in occupational therapy
Current registration with the appropriate Provincial College of Occupational Therapists
Membership with the Canadian Association of Occupational Therapists and/or the Ontario Society of Occupational Therapists
Drivers licence with access to a vehicle
To apply email your resume: jamie.sutherland@function-ability.com