Best Practice in Post-Trauma Community Re-Integration – November 24th – SIGN UP TODAY!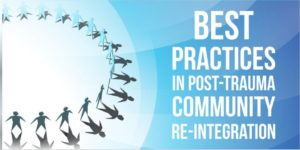 SAVE THE DATE!
We are so excited to announce the 2nd annual conference Best Practice in Post-Trauma Community Re-Integration is coming soon!
Join us for this year's conference on Trauma and Stress.
On November 24, 2017 we will bring together experts in our community to present best practices related to trauma and stress. This conference will help you support patients dealing with mental health issues, including mood and anxiety disorders, post-traumatic stress disorder, suicide risk and building our patients' resilience as priority topics.
When: Friday, November 24, 2017 (full day)
Where: St. Elias Center, Ottawa, Ontario
For more information please visit the conference website:
www.post-trauma-conference.eventbrite.ca
FunctionAbility is proud to have our very own Social Worker, Shanesya Kean (MSW) and Occupational Therapist, Veronica Takes presenting this year on the topic of connection and resilience
Don't miss this unique opportunity for professional development and networking with committed leaders in hospital and community health care. We look forward to seeing you in the nation's capital!